Her Pretty Little Head
The Big Question is Why does the Pleasure Model know what she knows?
The Big Answer to that is gonna leave a lot of people dead and rip the lid off a secret that could blow up the US Government.
He Gets all the Breaks
For Rook what doesn't get broken probably needs fixing.

Ex-homicide detective Rook Venner is still on the run with Plesur, a sex android who carries top-secret data that has made her the quarry of the government, the military, and possibly a shadowy private agency. A rendezvous with a vice-presidential aspirant whose name has been programmed into Plesur promises to clear up some of the mystery of why she is being pursued, but it's interrupted by a band of marauding mercenaries who kidnap the refugees and force Rook to fight a series of gratuitously brutal gladiatorial matches ...
Mountain Getaways
Rook is on the run with Plesur who carries a secret in her brain that terrifies the powers-that-be. A secret that they will do anything to destroy—even bring in a Tactical Robotic Regiment to track Rook and Plesur down and annihilate them.
The only choice the two have is to locate the coordinates that were planted in the pleasure mod's head to the isolated mountain ridge where it all began. Deep underground, in a warren of machine halls and ice caves, something so horrific is happening that just knowing three code words is enough to get you killed: Operation Taste Imperative.
Rook and Plesur have no way back and no way out. If they want to survive and have any kind of life together, they must uncover the terrifying secret that lies deep inside the mountain.
Netherworld
From the gritty, torrid world of pulp noir to the slick cutting edge visual style of graphic novels comes a fusion that will change the face of pop culture forever. A riveting format in a style only Heavy Metal can deliver.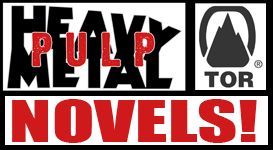 Written by world renowned science fiction and fantasy author
Christopher Rowley
Illustrated by fan favorite artist
Justin Norman
Heavy Metal Pulp A visionary fusion of pulp noir and graphic novel.